Anthony Stammers: Missing man urged to attend sister's wedding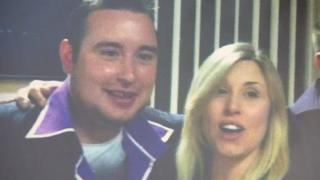 The family of a man who vanished eight years ago said it would be the "best wedding present" if he returned to see his sister tie the knot.
Anthony Stammers, then 27, was last seen at home in Colchester, Essex, in May 2012, and did not turn up to his grandfather's funeral the next day.
His parents, Julie and Rob, and sister Cathy, 40, appealed for him to get in touch before her wedding in the summer.
Miss Stammers, of Norwich, said contact from "Ant" would be "life-changing".
"A wedding is a family celebration and if he wanted to be a part of it I would just love that," she said.
"The hardest thing is I can't talk to him, I can't let him know how much I love him, how much I miss him."
Mr Stammers had experienced depression and was feeling low since the death of his grandfather, to whom he was very close.
He left the family home at 10:00 on 27 May and an hour later texted his mum and asked her to check his clothes for the funeral.
His parents reported him missing when he did not attend the service, where had been due to give a reading.
"The gut reaction that we both share is that he is somewhere," his father said.
"It's a continual story of search and frustration."
'Unite the family'
The couple, who have an elder son, James, said planning the wedding for Cathy and fiancé Simon in August had brought up mixed emotions.
"You've got the joy of your daughter getting married but then one of your close family members is not going to be there," added Mr Stammers.
"It would unite the family again and be the best wedding present."
Mrs Stammers added: "In my deepest, darkest moments obviously I do think 'is he alive, is he dead?'
"It's with you every minute of every day."
At the height of the search, 30 officers scoured the river and railway line near the Stammers' home.
Essex Police said the case was open and urged anyone with information to get in touch.
Source link